The Whiskey Hotline team is on a never ending mission. We scour the world for the most interesting, unique and best barrels of whiskey we can find. This can take us to Scotland, Taiwan, Washington, Tennessee, Kentucky... Wherever there's good whiskey to be found, we'll find the best of it and bring it to you at the best price we can.

If it looks like a bourbon, and it tastes like a bourbon… Well, this isn't a bourbon. It's a Canadian whisky made from a mash of corn, rye and a bit of malt barley, just like a bourbon. After aging in new, charred oak barrels for 13 years this sure smells and tastes like a bourbon. Of course bourbon must be made in America, so this gem is specifically labeled "this is not a bourbon whiskey." There are many different whiskies that make up the Crown Royal blend and this "bourbon mash" may be the finest of them all.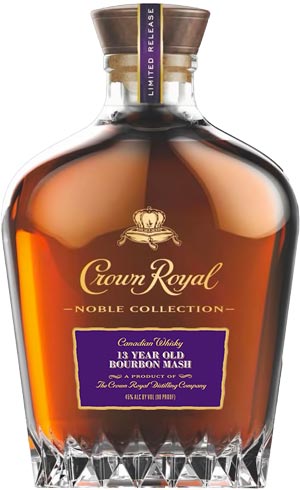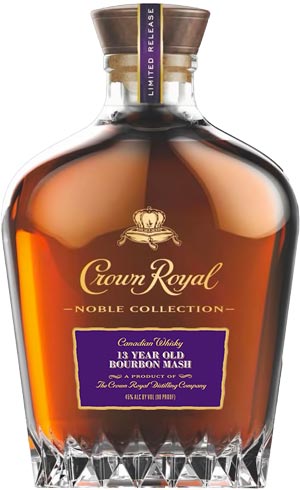 Crown Royal Noble Collection 13 year old Bourbon Mash 3rd Limited Release
...
On the nose, oak and roasted grain lead the charge over a dose of marshmallow and vanilla that continue to build. Peaches, pears and cherries explode on the tongue with a touch of cardamom and baking spice rounding out the flavors. The finish is pleasantly warming with oaky spice lingering longest. A very bourbon-like whiskey, for not being a bourbon. Let's hope they continue to release this one in older and older formulations. One of the best Crown Royal whiskies we have ever had.
For years the MGP distillery in Lawrenceburg, Indiana has quietly been churning out some of the best whiskies on the planet, always bottled for other brands. Dozens of award winning bourbons and ryes on the shelves today are contract distilled at MGP. It's been a long time coming, but they are finally releasing their whiskies under their own label, George Remus, named after a prolific bootlegger.
George Remus Bourbon
...
A big and boisterous bourbon nose, full of maple, brown sugar and cherries. More fruits burst onto the scene on the palate with citrus, honey and vanilla rounding things out. A long brown sugar and mint finish keep it interesting. As usual with MGP, great bourbon showcasing the dynamic range of the rye grain.
Remus Repeal Reserve Straight Bourbon
...
This will be an annual, limited release so grab it while you can. This is a blend of high rye and low rye bourbons distilled in 2005 and 2006. Rich and inviting nose of dark fruits, toffee, baking spice, cinnamon and a touch of mint. Chewy palate with the dark fruits turning towards a more spiced and stewed character. The age and oak shine on the finish with lingering vanilla and spice.
George Remus, self-proclaimed King of the Bootleggers, was a legendary Chicagoan. A pharmacist by trade, George attended law school at nights while running his pharmacies. Always one to seize on an opportunity, he noticed the loopholes in the Volstead Act that allowed him to write prescriptions for medicinal whiskey. Soon a warehouse on north Clark street was filled with booze and the King was overseeing one of the largest bootlegging empires in the country. As his operations continued to grow, he relocated to Cincinnati due to it's proximity to roughly 80% of the whiskey supply in the country. There George's empire continued to grow. He bought pharmaceutical companies in order to obtain medicinal whiskey permits and bought 10 distilleries as well. He even had 3,000 employees working for him at one point. The law of course eventually caught up, and he was jailed for bootlegging. King George faded into obscurity after prohibition ended, but is a fitting character to represent a distillery that has operated in the background of the whiskey world for so long.
It's about time. Over the last couple of years we have had some absolute knockout barrels of Knob Creek bourbon come through, but were always told there just wasn't enough rye to go around for a barrel program. Thankfully as stocks continue to mature in Kentucky opportunities arise and we are proud to offer the first handpicked barrels of this beautiful rye in the Chicago area. With only two barrels bottled at 115 proof these are in short supply, so head to your local Binny's soon. But don't worry, we already have more barrel samples on the way.
Knob Creek Rye Single Barrel #5969 12L10 F9 11(1) Binny's Handpicked
...
Quite the snappy rye nose, white pepper and mint over a bed of soft vanilla. Big, spicy palate entry that's quickly balanced by soft oak notes, vanilla and caramel. Lingering rye spice and rich oak and leather on the finish. Big, chewy and complex, this rye is a winner.
Knob Creek Rye Single Barrel #5970 12J15 I6 12(1) Binny's Handpicked
...
More sweet oak balancing the pepper here. Softer and sweeter at first, but the spice really cranks up across the palate and keeps building into the finish. All that spice never gets out of hand as there is a strong brown sugar backbone keeping it in check. Balanced and full bodied, rye how it should be.
Knob Creek Single Barrel is a bourbon we love. Consistently one of the best values around, this 120 proof beast is a bargain at $40 and loaded with oak, maple, vanilla and cinnamon. It's the complete package, but there's always room for improvement. What are we looking for specifically in a Binny's cask? We always taste the barrel samples alongside the everyday bottle, and if the sample isn't above and beyond the regular stuff it is immediately rejected. From there we look for the classic Knob Creek profile, rich and warming oak spice that doesn't lean too bitter and a balancing corn sweetness that isn't too flabby with fruit, vanilla and butterscotch that don't drown out the oak and grains. There's always Knob Creek Single Barrel around, but only the best of the best get the Binny's name put on them. As usual, the Binny's handpicked casks crank the volume to 11 with added depth and complexity.
Knob Creek Single Barrel Binny's Handpicked
...
The 10 barrels that made the cut are all unique, but none stray too far off of the Knob Creek path. As with all high-proof single barrels there isn't a lot to go around and availability will vary by store, but all Binny's have at least a few of these treats. They won't last long, so stop by your local Binny's soon.
In what has become an annual tradition at the Whiskey Hotline, our bespoke blends of WhistlePig Old World cask finishes have arrived just in time for the holidays. The various wine casks tame the spice and add luscious layers of fruit. These saucy piggies are in short supply and always sell out quickly, so head into your local Binny's today and bring home the bacon.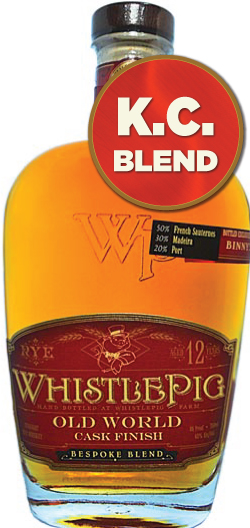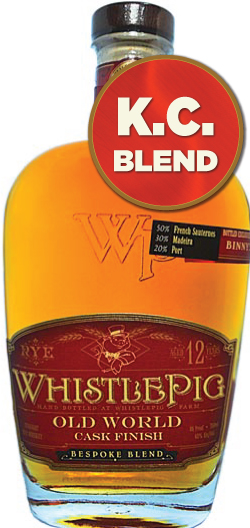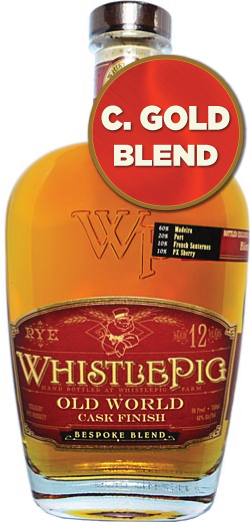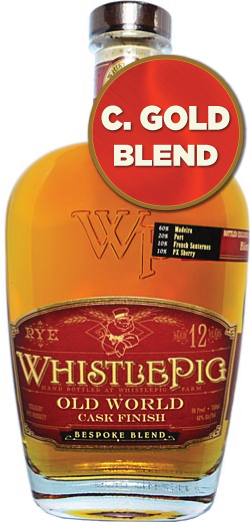 Cognac personifies "the blender's art" more than any other spirit. Vintages, regions and barrels are all combined to create consistent quality and flavor. That doesn't mean beauty can't be found in a single barrel or a single vintage, but oftentimes the incentive to bottle something unique is outweighed by the need to bottle something consistently. So when Maison Park offered some single vintage, single barrel goodies the Whiskey Hotline wasn't going to pass on an opportunity to turn Cognac convention upside down.

Maison Park has always been a Hotline favorite. Park Cognacs hail from the Tessendier & Fils distillery in the heart of Cognac. Tessendier sells most of their production to some of the big brands but have always set aside their finest distillate in their own expansive cellars, with the Park label reserved for their very best. Not only are our new handpicked casks single vintage distillations, they are a full 10 years old and bottled at higher proof than the traditional 80. This keeps the body of the eau de vie full, round and whiskey-like.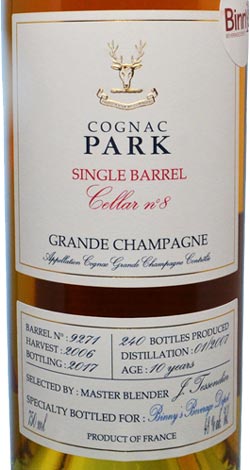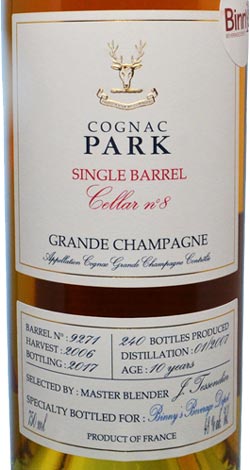 Binny's is proud to introduce Kelsey Creek bourbon to Illinois. Distilled in Bardstown, KY this versatile 90 proof bourbon is the best deal in our ever expanding bourbon aisle. A gentle and flavorful sipper as well as a budget priced mixer, this bourbon does it all. At only $24.99 for a 1.75 liter this is the best bang for the buck.
Kelsey Creek Bourbon
1.75L Bottle
...
Classic corn puddin' opens the nose with cherries and vanilla in supporting roles and a touch of anise in the background. Round and filling on the palate with a touch of toasted oak, baking spice and vanilla all in balance. The finish lingers with vanilla, butterscotch and a touch of clove and cinnamon.
Kelsey Creek Single Barrel Bourbon
...
As single barrel bourbons go, this compares favorably to Blanton's, Four Roses and others. This sipper holds its own against bourbons twice the price.