Amidst the sea of choices on the shelf today, you may be asking yourself - what's so special about Cigar City? In a word - proficiency. They can fill a fermenter with one of the most complex imperial stouts you'll ever taste, yet at the same time produce an impeccably balanced and refreshing pale ale. Also of note, is their ability to imbue Floridian culture into their distinctive lineup of beer. We can't wait to see what tricks they have up their sleeve in the months to come, but until then, let's check out their adeptly crafted core line-up.
Cigar City Jai Alai
6 Pack of 12oz Cans
...
The seemingly hard to pronounce IPA that put Cigar City on the map. It's easy to see how Floridians fell in love with Jai Alai; it's so citrusy you'd swear brewers squeezed oranges or tangerines right into the fermenter. A bold, yet balanced, juice packed IPA, before "juicy" was the word of the day. *Not available in Champaign, Bloomington or Springfield.
Cigar City Maduro
6 Pack of 12oz Cans
...
Like the cigar style from which it takes its name, this delectable brown ale is brimming with notes of cocoa, coffee and dark fruit. Palate enveloping creaminess delivers a long chocolatly finish that's rich, but not too sweet. Never thought much of brown ales? Maduro will make you a believer. *Not available in Champaign, Bloomington or Springfield.
Cigar City Invasion
6 Pack of 12oz Cans
...
In today's beer scene, IPA is king, but a well-made pale ale, while seemingly familiar, can be a refreshing change of pace. Cigar City's Invasion is one of the best we've ever tasted. Southern Hemisphere hops impart a breathtaking array of tropical fruit aroma and flavor, with pineapple and papaya at the forefront. Just enough bready malt coupled with the spiciness of Simcoe and Amarillo makes for an incredibly balanced pale ale. *Not available in Champaign, Bloomington or Springfield.
Cigar City Guayabera
6 Pack of 12oz Cans
...
As easy breezy as the shirt for which it's named, this single hopped Citra pale ale pours beautifully golden, with a brilliant clarity that's surprisingly rare these days. On the nose it's classic Citra, with massive citrus and tropical fruit aromas rising from the glass. Light in body, dank and juicy – it concludes with a bright citrusy finish. Zombie devotees, you're gonna wanna give this a try. *Not available in Champaign, Bloomington or Springfield.
Cigar City Florida Cracker
6 Pack of 12oz Cans
...
This is everything a Belgian-style white ale can and should be. It's so well balanced that it dodges all the pitfalls so many American examples succumb to. Not too sweet, nor too spicy - its light and refreshing, yet highlights the delicate interplay of biscuity malt, soft spice and bright citrus. *Not available in Champaign, Bloomington or Springfield.
Chimay Première
25.4oz Bottle
...
Chimay Première is the original Trappist ale produced by the monks of Scourmont Abbey. This heavenly Belgian Dubbel pours amber in color with volumes of mousse-like foam. Yeasty and aromatic, notes of sweet spice and apricot complement a vast array of flavors including fig, caramel, and raisin. A beer of this caliber and complexity demands proper glassware, and we're excited to announce that while supplies last you'll receive TWO free Chimay chalices with your bottle of Première!

*Price valid through 3/2/2018. Free Glasses Offer is valid in Binny's stores only with a Binny's Card through 3/12/2018 or while supplies last. Limit one per customer. See store associate for details.
Whether you're new to the world of cider or a longtime devotee, our extensive selection of hard cider spans the spectrum. From deliciously sweet to mouth puckeringly dry - we've got a cider for every time and taste. Bring this coupon to your local Binny's and join in the cider celebration!
Magners Original Cider
6 Pack of 12oz Bottles
...
With over 80 years of cider making experience under their belt, Magners continues to bolster its loyal fanbase with this tried and true Irish hard cider. A period of long slow conditioning produces a wonderfully balanced and bright cider. A great partner for dry Irish stout – try layering the two in a pint glass this St. Patrick's Day.
Blake's Beard Bender
6 Pack of 12oz Cans
...
If you think all hard cider is sweet, think again. Beard Bender is made from a blend of bittersweet and bittersharp varieties, all grown on the Blake's family farm in Armada Michigan. Fermented on oak till it's bone dry - Beard Bender refreshes the palate, leaving a uniquely fruity minerality on the finish.
Original Sin Dry Rosé
6 Pack of 12oz Cans
...
Rosé is the cider style de jour, and they come in all over the board - from jammy and sweet, to snappy and herbaceous. Like Blake's, Original Sin uses only fresh pressed apple juice, and it shows. Their Rosé opens with some fresh raspberry like sweetness, followed by a refreshingly tangy finish with hints of lemon peel and pear.
Stem Cider Pear Apple
4 Pack of 12oz Cans
...
Not all fruited ciders are created equal. If you've shied away from fruity ciders in the past, it's time to give Stem's a try. Locally sourced Colorado grown Bartlett pears impart lovely pear aromatics and flavors to this surprisingly dry cider. A must try with some nice rich brie.
Toppling Goliath's Mosaic masterpiece returns – in shiny new cans! Aptly named Mosaic hops deliver their famously complex mixture of bright tropical fruit flavor and aromas in this crushable IPA. We've tried a lot of beers brewed with Mosaic, and Pompeii is without a doubt, one of the best.
Toppling Goliath Pompeii
4 Pack of 16oz Cans
...
Freshly popped Pompeii delivers an aromatic payload of pineapple, mango and papaya. Fruity and floral across the palate, notes of tangerine, grapefruit and papaya are followed by a crisp, resinous finish. A dangerously crushable IPA!
Have you tried the latest IPA? The relentless wave of IPAs keeps rolling in, and we continue to work our way through the haze. If you're thirsty for IPA, check out these juicy finds.
Solemn Oath End All
6 Pack of 12oz Cans
...
Unmistakably tropical on the nose, Solemn Oath's latest brims with notes of mango, papaya, and passionfruit. A refreshingly light palate offers an amalgamation of juicy tropical fruit and resinous hops, culminating in a tangy finish accented by pineapple and papaya. *Not available in Champaign, Bloomington & Springfield.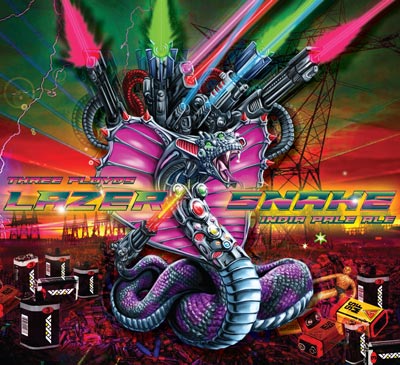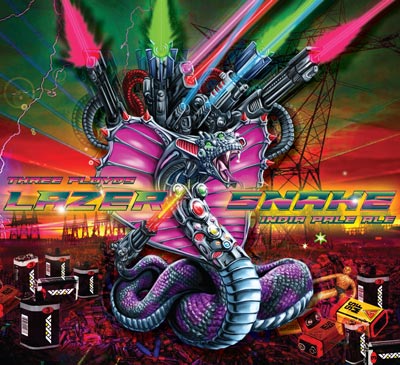 Three Floyds LazerSnake
6 Pack of 12oz Bottles
...
Once only available in bombers, LazerSnake is battle ready and shipping out in six packs! Don't let its subtle haziness fool you, this fruit forward IPA has a bit of a sting. Dank and citrusy on the nose, a wave of juicy tropical fruit builds up to a lasting finish, packed with passionfruit and pine. *Not available in Champaign, Bloomington & Springfield.
18th Street Sex And Candy
4 Pack of 16oz Cans
...
There is something satisfyingly simple at work here. A touch of sweetness, balanced by a gentle bite of citrus, followed by a wisp of pine on the back end. A deviously drinkable IPA that leaves you longing for more. *Not available in Champaign, Bloomington & Springfield.
Times change and so do peoples' tastes. Many new IPAs tend to focus less on hop bitterness in favor of alluring new hop aromas and flavors. With this in mind, Two Brothers Outlaw has been reborn as a rotating hop IPA series, and the debut release features one of our all-time favorites – Mosaic hops!
Two Brothers Outlaw Mosaic
6 Pack of 12oz Cans
...
Extensive dry hopping produces a highly aromatic nose bursting with notes of tangerine, passionfruit and papaya. Light on the palate, Mosaic delivers its famously tropical fruitiness, with pronounced pineapple and guava leading into a bright tangy finish.
Two Brothers In The Dark Blackberry
6 Pack of 12oz Cans
...
Dark sours can be dangerous territory. Marrying dark roasted malts and lactic tartness requires a skilled hand. A touch of blackberry sweetness really brings this one together, accentuating notes of dark cocoa and espresso.
Odell is at it again. Their Cellar Series is an eclectic mix of boundary pushing brews. From mouth puckering sours to resin packed triple IPAs, its bold lineup is not for the faint of heart. This week we have a refreshingly old school imperial stout aged in Old Elk Bourbon barrels.
Odell Bull Proof
12oz Bottle
...
You're immediately hit by oak on the nose, followed by coffee, molasses, and plums. The palate is thick and rich, with notes of roasted malt and chocolate giving way to a long, spirited finish. This is not a pastry stout. It's big, it's bold, and that's the square deal.
It's back! Lagunitas Cappuccino stout is one of our favorite coffee stouts. Deceptively light in body, especially given its hefty ABV, this coffee packed imperial stout is lovely after dinner, but also quite delicious for brunch.
Lagunitas Cappuccino Stout
22oz Bottle
...
Lagunitas Cappuccino Stout opens with the seductive aroma of vanilla beans and brown sugar. Dark chocolate decadence gives way to a bold fruity finish with notes of plum and dark cherries. An incredible beer at an incredible price - it's time to fill your cellar. A bit of aging rounds out the flavors, softening the coffee and giving way to flavors reminiscent of chocolate fudge with walnuts.
Hazy, creamy and bursting with big fruity hop aromas – while the new cut of IPA might sound a bit perplexing, the breweries that are doing it right can barely pump it out fast enough. Be it single hop expressions, imperial heavyweights, or fruited variants - Odd Side Ales' Dank Juice series has yet to disappoint. Meet the latest - Diggity Dank Juice.
Odd Side Diggity Dank Juice
6 Pack of 12oz Cans
...
This latest Dank Juice expression sports an impressive hop bill – El Dorado, Amarillo, Simcoe and Denali. The nose delivers as promised – plenty dank and rounded out by big stone fruit. The palate begins with papaya and tangerine, followed by notes of guava, pineapple and grapefruit. The fruit filled finish is dank and spicy, with a touch of spearmint.