When it comes to designing big rich imperial stouts, brewers often take inspiration from our favorite desserts. "Pastry Stouts" are all the rage as of late, but Southern Tier has been brewing up confectionary classics for years. That having been said, this latest creation might be their finest.
Southern Tier Samoa This
4 Pack of 12oz Bottles
...
By some sort of strange alchemy, Southern Tier transformed a treasured dessert into liquid form. It's not just similar, nor is it nuanced, this smells exactly like the cookie. The palate offers all the flavors you'd expect – rich chocolate, chewy caramel with plenty of toasted coconut. The finish on this imperial milk stout is rich, but not cloying, and its substantial strength remains deceptively well hidden. An amazing beer and a wonderful match for nearly any chocolatey or caramel topped dessert.
We often extoll the virtues of Vander Mill's carefully crafted lineup. We're excited to announce the arrival of Vandy, a sessionable and snappy hard cider, packaged in six packs of 12oz cans! Vander Mill creates wonderfully balanced cider, and Vandy is no exception.
Vander Mill Vandy
6 Pack of 12oz Cans
...
The nose is bright and honeyed, displaying lovely fresh pressed juiciness. Initial sweetness on the palate is quickly balanced by a surge of invigorating acidity. The finish is crisp, clean and refreshing. *Not available in Champaign or Bloomington.
Vander Mill Totally Roasted
6 Pack of 12oz Cans
...
Vander Mill uses handmade cinnamon roasted pecans and whole vanilla beans to create this one of a kind cider. The nose is a tantalizing mix of warm cinnamon buns and fresh baked apple pie. Sweet spice and vanilla pair perfectly with bright apple notes, with pecans lending a touch of body and a subtle nuttiness on the finish. While seemingly desert like, a good amount of acidity keeps the sweetness in check, making this a remarkably complex and balanced cider. *Not available in Champaign or Bloomington.
Since its debut in 2000, Stone Imperial Russian Stout has been a treasured seasonal release. Imagine our shock and disappointment when they failed to release it in 2017. Was IRS too old school, too intense for today's beer drinker? We're happy to announce its triumphant return to power, slightly tweaked and retooled for the next generation.
Stone Totalitarian Imperial Russian Stout
6 Pack of 12oz Bottles (22oz Bottles in Bloomington & Springfield)
...
On the nose it offers the familiar aromas of licorice, coffee, and cocoa, followed by a touch of berry-like fruitiness. Now brewed with oats, it's soft and smooth across the tongue, delivering rich chocolate and plenty of dark fruit. While not as roasty as it once was, the finish is still long and bold, with Belma hops imparting a touch of blueberry. A kinder, gentler IRS, but rest assured it's no pastry stout - more like a steel fist in a velvet glove.
4 Hands brews everything from spicy saisons to big rich imperial stouts - with a long list of pales, DIPAs and IPAs in between. Here's a pair of our favorite IPAs from 4 Hands, at savings too hot to pass up.
4 Hands Incarnation
6 Pack of 12oz Cans
...
A wonderful expression of the Mosaic hop - one of the hottest hop varietals around. Bursting with tropical flavors and aromas, this 6.5% ABV IPA is surprisingly easy drinking, with pronounced guava and passionfruit on the finish.
4 Hands Dakine
6 Pack of 12oz Cans
...
Looking for juicy IPA? Dakine is a tropical IPA brewed with pineapple, honey, and mandarin orange peel. This warm weather seasonal is extremely juicy, offering a candied pineapple sweetness that's balanced by a crisp citrusy finish.
With new breweries opening each month, our shelves are loaded with more IPAs and stouts than ever - but how often do you see a beer made with marigolds? Forbidden Root dares to be different, and in doing so they've created a magical place, complete with apothecary cabinets full of flowers, herbs, roots and spices from all corners of the world. Freshly canned and on sale now – it's time to check out what botanical brewing is all about.
Forbidden Root Wildflower Pale Ale
4 Pack of 12oz Cans
...
WPA? No, it's not a white or watermelon IPA; in this case, WPA stands for Wildflower Pale Ale. Brewed with Elderflower, Marigold and Sweet Osmanthus flowers, it's floral and citrusy on the nose with a satisfying maltiness that is tempered by a clean hoppy finish. Rest assured the floral additions are not overbearing, but rather make this a pale ale like no other. *Not available in Champaign, Bloomington or Springfield.
Forbidden Root Strawberry Basil
4 Pack of 12oz Cans
...
A bit more straightforward than some of Forbidden Root's botanical creations, but on a warm spring afternoon, this hefeweizen really hits the spot. A subtle hint of basil marries well with the strawberry and imparts a freshness to both the aroma and finish. *Not available in Champaign, Bloomington or Springfield.
Forbidden Root Hay Fever
4 Pack of 12oz Cans
...
The latest addition to the Forbidden Root lineup is a rustic farmhouse ale with an American twist. Dry hopped with Citra and El Dorado hops, the nose is citrusy and spicy, with pronounced peppercorn, grapefruit, and fresh cut grass. Invigorating and effervescent across the palate, it delivers a wave of citrus, followed by a bright, herbaceous finish. *Not available in Champaign, Bloomington or Springfield.
Introducing the latest addition to Ace's six pack lineup – Ace Space. Ace owner Jeffery House designed this cider for his wife Angela. You'll recognize her as the intergalactic siren from the cantina scene in episode 4. This blood orange beauty is a seductive mix of sweet and sour, with and irresistibly delicious finish.
Ace Space Bloody Orange Cider
6 Pack of 12oz Bottles
...
This citrusy cider is bottled unfiltered, so give it a quick inversion before opening. Vermillion in color, the nose is bold and citrusy, with notes of nectarine and raspberry. Its unique mouthfeel is both creamy and piquant, delivering sweet and sour apple, accented by freshly squeezed citrus. As delicious as this is on its own, Space makes for a unique cocktail mixer, especially with gin and tequila.
From their treasured Smoked Porter, to vibrant and thirst quenching IPA, Alaskan Brewing Company's award-winning portfolio highlights expansive brewing prowess. Opening their doors in 1986, these craft pioneers took logistical challenges in stride, resulting in a brewery that was not only astonishingly efficient, but also decidedly environmentally conscious. Their latest release is a SMaSH - single malt (Pilsner) and single hop (Galaxy) 8.5% ABV double IPA - packaged in six packs!
Alaskan SMaSH Galaxy
6 Pack of 12oz Bottles
...
This big West Coast style DIPA offers notes of guava, papaya and a hint of raspberry on the nose. The palate begins with a blast of honeyed sweetness, with pronounced passionfruit and jackfruit giving way to a long resinous finish. Whether you're an established Galaxy hop fan or just curious what all the fanfare is about – this is a deal you don't want to miss.
Alaskan Amber
6 Pack of 12oz Bottles
...
The flagship in Alaskan's award-winning portfolio, this signature amber ale drew inspiration from a 19th Century Alaskan Gold Rush era brew. It's rich and malt forward, but with just enough hops to keep things perfectly balanced. Remarkably food friendly and a reliable crowd pleaser.
Technically Spring has arrived, but it sure doesn't seem like it. Here's some fruit filled freshness to help take your mind off the cold.
Pipeworks Blood Orange Guppy
4 Pack of 16oz Cans
...
The nose is citrusy and tropical, with passionfruit and a subtle touch of raspberry. Light and soft across the tongue, a hint of honeyed sweetness provides the perfect balance for its tangy finish. Another solid addition to the Guppy series! *Not available in Champaign, Bloomington or Springfield.
Anderson Valley Framboise Rose
6 Pack of 12oz Cans
...
Wine, cider and now beer – rose is where it's at. This refreshing gose gets its lovey pink color from raspberries. If you're unfamiliar with gose, this peculiar sour ale is brewed with salt. The addition of fruit, in this case raspberries, adds a touch of sweetness and balance. Anderson Valley brews some of the best gose around and rose is a real stunner. *Not available in Champaign, Bloomington or Springfield.
Pollyanna Summerly
4 Pack of 16oz Cans
...
It might only be Spring, but Summerly is back – and in cans! This deliciously creamy ale is brewed with three different kinds of wheat and hundreds of pounds of fresh raspberries. Not too sweet, nor too sour, this is one of our favorite seasonals on the shelf. *Not available in Champaign, Bloomington or Springfield.
It's that time again - April is here and The Waldos' Special Ale returns. Ever wondered what "dank" beer is all about? Give Waldos' a try, now you're in the know. This perennial treasure never lasts long, so stop in and grab some before it disappears.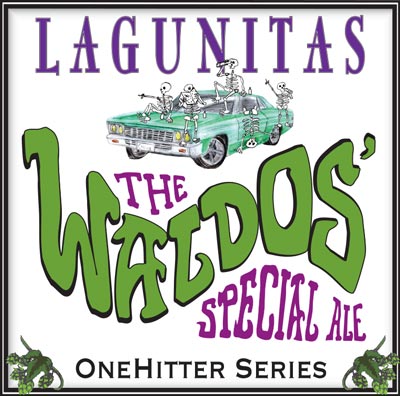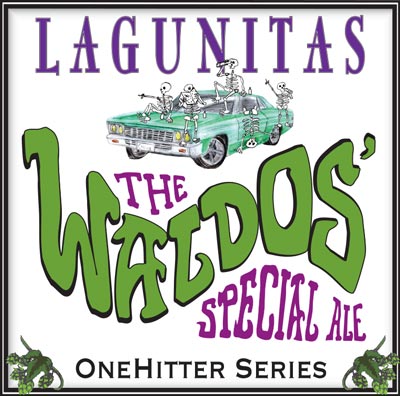 Lagunitas The Waldos' Special Ale
6 Pack of 12oz Bottles
...
Waldos' herbaceous aroma is something special – amazingly fruity and deliciously dank. On the palate, initial honeyed sweetness is enveloped by a massive wave of tropical fruit and pine. The finish is long and warming, with lingering citrus and piney resin. An 11.3% force to be reckoned with. *Not available in Champaign, Bloomington or Springfield.
Beer, barbeque and a healthy dose of eccentricity – welcome to the WarPigs Brewpub Copenhagen. Since opening its doors in 2015, this collaborative experiment between Mikkeller and Three Floyds has drawn the attention of craft brewers throughout the world. Both WarPigs Foggy Geazer and Lazurite are deliciously crafted IPAs, but Salmon Pants might be our sleeper favorite of the series. Brewing a solid lager is no simple task – Salmon Pants is a stylish take on a classic.
WarPigs Salmon Pants collaboration with Mikkeller and Three Floyds
6 Pack of 12oz Cans
...
The nose is bright, citrusy and herbaceous, with notes of tangerine and lemon peel. The body and sweetness of a German helles, but with the fruity finish of an American pale ale. A bright and balanced lager, that's crisp and crushable.*Not available in Champaign, Bloomington or Springfield.
Three Floyds Alpha King
6 Pack of 12oz Bottles
...
Alpha King is one of Three Floyds' longest running brews. Not only has Alpha King seen a recent update in packaging, the beer itself has evolved over the years. Billed as a pale ale, it used to drink more like an IPA. Nowadays, the hop bitterness is a bit toned down, focusing instead on alluringly fruity hop aromatics. Balanced, juicy and refreshing - hail to the king, baby.*Not available in Champaign, Bloomington or Springfield.
We've been saying it for years and we'll say it again – Central Waters produces some of the finest barrel aged beer in the world. Tucked away in the small Wisconsin town of Amherst, they remain a bit of a hidden gem. This latest Brewer's Reserve release is a big and rich porter, laid to rest in rum barrels.
Central Waters Rum Barrel Aged Coconut Porter
4 Pack of 12oz Bottles
...
A bright and spirited nose brims with brown sugar, vanilla and toasted coconut. Jet black in color, with a thin crown of tan foam, the first sip envelops the palate with waves of caramel and chocolate. Rich in flavor, but not overly sweet - the finish delivers notes of maple, molasses and toasted coconut.
When we were first introduced to Lucky 13 back in 2006, we fell in love. Like many of Lagunitas' creations, this brew is a big one. You could call it an Imperial Red Ale or an American Strong Ale, but we like how Lagunitas puts it best, it's an Ultra-Mega-Mondo Red Ale.
Lagunitas Lucky 13
22oz Bottle
...
While Lucky 13 clocks in at 8.8% abv, the beauty of this beer lies in its balance. Rich caramel maltiness complements a massive wave of resinous hop flavor. Big hops with big malt to back them up - not something you see much these days. What a sight for sore eyes. *Not available in Champaign, Bloomington or Springfield.
Lagunitas Dark Swan
6 Pack of 12oz Bottles
...
Pouring deep purple with fuchsia foam, Dark Swan is brewed with Petite Sirah grapes, imparting not only breathtaking color, but also a lovely fruity finish. If you're used to sessionable fruited sours, be aware this is Lagunitas strength – 8.5% ABV. Tart and tangy, with a touch of citrusy hop aroma and flavor – this is quite the unique creation. Dark Swan is back, but in limited supply – so grab some quick, before it flies away. *Not available in Champaign, Bloomington or Springfield.
Spring has finally sprung! Enjoy that extra hour of daylight and kick back with one of these deliciously fresh selections.
Toppling Goliath Sosus
22oz Bottle
...
If you're a fan of Toppling Goliath's Pompeii, you're not going to want to miss Sosus. Like Pompeii, Mosaic hops are the star of the show here. The nose is tantalizingly tropical with massive guava, passionfruit and papaya. Soft and silky across the tongue, it delivers big juicy tangerine, followed by a lingering touch of resinous pine.
Short's Superfluid
6 Pack of 12oz Bottles
...
This aromatic double IPA is an artful blend of new and old school IPA. Extensive dry hopping produces an amazingly fruity and floral nose, with notes of pineapple, peach and honeydew. The palate is remarkably complex with notes of pine, passionfruit and pomelo. The finish is fruity and resinous, offering a kiss of bitterness followed by a touch of coconut sweetness. One of Short's finest.
Two Brothers In The Flesh Pomegranate
4 Pack of 12oz Cans
...
Two Brother's mouthwatering In The Flesh series continues to impress. Pomegranate begins with a touch of candied sweetness, followed by some seriously tart and tangy acidity. An eye opening sour, with some mouth puckering power.
Stone Enjoy By IPA
6 Pack of 12oz Cans
...
The hop bill for Stone Enjoy By is always an impressive one. Southern Hemisphere hops really shine in this latest edition, with Nelson Savin, Motueka, Galaxy and Helga weaving a complex tapestry of hop flavor that's spicy, floral, herbaceous and fruity. The finish is dank and spicy with lasting spruce and stone fruit.