Our dedicated wine staff is eager to share our knowledge and excitement about all things wine. Stop by your favorite Binny's location, or ring us up at the new and improved Wine Hotline: (866) 975-6188 • wine@binnys.com
All the wines below over-deliver, are Binny's approved, and are ready to enjoy tonight!
#1
"A hidden gem in the vintage...."
Jeb Dunnuck

2015 Domaine de la Solitude Cotes du Rhone
...
From one of the best vintages in recent years, a stellar deal from one of the Rhone valley's top estates. From organic viticulture and hand harvesting to a gentle crush and hands-off fermentation, Solitude's aim is to highlight the fresh flavors of their savory wines, irrespective of the labor and costs. This red can stand shoulder to shoulder with many higher end Southern Rhone wines, yet at only a fraction of the cost. The real deal.
#2
"delicious, round and seductively textured"
Allan Meadows

2015 Vincent Pouilly Fuisse Marie Antoinette
...
A touch warmer than Burgundy and blessed with a limestone subsoil very similar to its more northern counterpart, Pouilly Fuisse has long enjoyed a high regard among discerning devotees of chardonnay. Why so? Its wines display a ripeness and fullness with an ease that Burgundy could only wish for, and at a price point affordable by all. The 2015 Marie Antoinette is not only a benchmark example but also a bargain.
#3
A Kermit Lynch Selection


2015 Regis Bouvier Marsannay Rouge Les Longeroies
...
Crafted by one of the best estates in an undervalued appellation. From one of the coolest sections of the Cote de Nuits, the reds from Marsannay embody all the qualities that drive pinot enthusiasts mad: vibrancy and clarity of flavors that persist long on the palate. What's more, the wines of Regis Bouvier are staples in the book of legendary importer Kermit Lynch, whose hand selected portfolio of French wines are second to none. His name on any wine bottle is a sure mark of quality.
#4
"....a great value buy."
Monica Larner

2014 I Custodi Etna Rosso Pistus
...
I Custodi's vineyards lie within the shadow of Mount Etna, Europe's largest active volcano. Undoubtedly a big risk, yet upon those volcanic slopes nerello mascalese thrives. It's no easy task to cultivate the vine on a slope, where any misstep can twist an ankle. But vineyards rooted on slopes not only enjoy a more full exposure to the sun; moreover, sloped vineyards are cooler, permitting wines with intensely fresh and vibrant flavors - like those found in the 2014 Pistus.
#5
"the pinnacle of the Châteauneuf du Pape hierarchy"
Jeb Dunnuck

2015 Clos Saint Jean Chateauneuf du Pape Vieilles Vignes
...
A full-figured, flavorful red from from perhaps the greatest appellation of southern France. Upon the clay and stone soils of Chateauneuf-du-Pape, grenache gains an almost sinful richness of flavors. Crafted with the assistance of celebrated winemaker Philippe Cambie, Clos St. Jean's 2015 CdP is an especially telling example that also possesses an alluring fragrance that marks it above most others. Top notch grenache.
#6
"Graham is indisputably one of the great names of port."
Richard Mayson

Graham's 20 Year Old Tawny Port
...
One of the best tawny ports on the market from the finest Port estate in all the Douro. There, vines endure the heat, yielding remarkably ripe fruit dense with flavor and texture, which of course is enriched by the addition of brandy. The best are a blend of sheer power, fresh fruit, rich textures, and a spine of tannin - and Graham's 20 Year Tawny has all in spades. Rich, round, and luxurious, and ready to enjoy now.
#7
"....A-list producers...."
Monica Larner

2013 Paolo Scavino Barolo Bric del Fiasc
...
A full-bodied, aromatic red from one of Italy's greatest craftsman and most forward thinking proprietors. Enrico Scavino pursues cooler, more well managed fermentations and elevage in smaller barrels, all for a more fresh flavored and polished wine. And all without sacrificing the breathtaking range of flavors nebbiolo vines rooted upon the finest sites (like Bric del Fiasc) can yield: exotic spices, fine tobacco, red cherries, and rose petals in the best examples, like Scavino's 2013 Barolo Bric del Fiasc.
#8
"...one of the most respected young vignerons not only in Gevrey, but in the Côte de Nuits."
Neal Martin

2014 Denis Mortet Gevrey Chambertin Mes Cinq Terroirs
...
A full bodied pinot from Burgundy's most muscular commune. The pinots from Gevrey Chambertin are Burgundy's most complete, displaying a weight and structure that distinguish its wines from all other communes. The very best will cost you dearly - after all, the commune boasts the greatest number of Grand Cru vineyards! Luckily, the village AOC Gevrey Chambertin is also the largest, and offers a number of spot-on examples at more affordable prices. Those from proprietor Arnaud Mortet are among the commune's best deals. Wild red cherries, rose petals, a dash of baking spices, and just a hint of charcuterie - the 2014 Cinq Terroirs is spot on Gevrey.
#9
"....one of the finest wine estates in the world."
Monica Larner

2014 Fontodi Flaccianello
...
A world-class Italian red from one of Chianti Classico's greatest estates. Comprised entirely of sangiovese (most Chiantis are a blend of sangiovese and other varietals) and crafted with the most gentle and modern techniques, Fontodi's Flaccianello is one of Tuscany's most pure expressions, with morello cherries, cassis, and savory hints coming to the fore. As distinctive as any Brunello and as complex as any Classified Bordeaux estate, the Flaccianello is a monument to Tuscany. Outstanding wine.
#10
"....another magnificent wine from Joseph Phelps."
Antonio Galloni

2014 Joseph Phelps Insignia
...
Bordeaux, of course, is where cabernet sauvignon and merlot first found fame. But California enjoys advantages that in turn yield some the world's finest reds, deep and dense wines whose concentration and depth of flavors can match anything from France. Many pioneering Napa proprietors seized upon the opportunity to bottle either cabernet or merlot, but the late Joseph Phelps was among the very first to promote a Bordeaux blend rather than a wine comprised of a single varietal. His Insignia is now a Napa icon, and still one of the finest not only from California but in all the world. A cellar treasure.
Below are the Top 10 wines from the September Wine Sale! All are delicious wines as well as great values.
#1
"....a little gem of a wine...."
Jeb Dunnuck

2015 Delas Cotes du Ventoux
...
One of the southern Rhone's great values. With the arrival of winemaker Jacques Grange, DF is flying high again. He gained valuable knowledge and experience while working with both Michel Chapoutier and Jean Luc Colombo, two of the wine world's leading winemakers. Grange draws upon that wealth of know-how when crafting wines in the cellars of Delas Freres. And it shows, especially in his 2015 Cotes du Ventoux. Concentration, fresh flavors, serious impact - it's all in there. An absurd deal.
#2
"The pinots here have a remarkable clarity and beautiful, bright fruit...."
James Suckling

2015 Ritual Pinot Noir
...
Top notch pinot and a mind boggling deal! The 2015 Ritual proves that top notch pinot could be had for under $20. No easy task. Pinot noir demands more care and attention than any other varietal, and that care and attention add to the cost. But there are notable exceptions, like the 2015 Ritual Pinot Noir. Cultivated in cool yet sunny Chile and crafted under the guidance of California superstar winemaker Paul Hobbs, the 2015 Ritual pinot noir is a stunning red at an equally stunning price.
#3
"Some of the best value Garnachas from Spain and the world are found here...."
Luis Gutiérrez

2015 Bodegas Borsao Tres Picos
...
Both ripe and ravishing - wines comprised of grenache are pure decadenc, and there's no better example than Bodegas Borsao's Tres Picos! One of the world's best wine deals, the Tres Picos overwhelms with red fruit, exotic spices, and aromatic herbs. This high-octane red (at least 14% abv if not more) is one of those few value producers that enjoy the universal praise of critics. Yes, the Tres Picos is that good.
#4
"These wines not only make for compelling drinking, but also a huge amount of fun...."
Robert M. Parker, Jr.

2015 Torbreck Woodcutter's Shiraz
...
This Rhone-inspired red proves that Australia's Barossa Valley is one of the wine world's greatest treasures. In the Barossa, you'll find ancient vines of grenache, syrah, and mourvedre, all which yield remarkably ripe wines whose concentration of flavors and energy on the palate can rival anything from the Rhone Valley. Anything! Black orchard fruit, spice on the attack, with a violet note emerging more clearly with time - this opulent red has it all. This is a bargain for what's in the glass.
#5
"....one of the noble Chianti Classico estates most steeped in history."
Nicolas Belfrage MW

2012 Fonterutoli Chianti Classico
...
Though enjoying over 500 years of know-how and tradition (Fonterutoli was founded in 1435 by the Mazzei family) Fonterutoli refuses to rest on its laurels, and was among the first in the late 70s to plant French varietals in their vineyards and to adopt French barrels for aging. The estate's willingness to take risks and embrace change paid off, and the wines are as polished as any wine yet retain their telltale Tuscan flavors. The 2012 Chianti Classico is a regal red, and displays all the poise and charm you'd expect from a top tier Italian red.
#6
"Phinney... deserves to be commended for the brilliant individuality/singularity of all of his efforts."
Robert M. Parker, Jr.

2015 Orin Swift Abstract
...
Full flavored and velvet textured, the potent reds of Orin Swift are as California as they come. And due in large measure to Dave Phinney, who does everything he can in the cellar to wring out every ounce of ripeness and flavor that he can from his California fruit. No expense is spared by Phinney, whom Parker singles out for his "brilliant individuality/singularity of all his efforts." The 2015 Abstract is one of his latest effort, and it doesn't disappoint.
#7
"Full-bodied and very intense...."
James Suckling

2013 Mauro Molino Barolo Gallinotto
...
A full-bodied Italian red crafted by one of the country's up and coming winemakers. Barolo is among Italy's most traditional regions, producing wines that can be unyielding when young. Fortunately, the dynamic brother/sister duo of Matteo and Martina Molino pursue more modern techniques (cooler fermentations and elevage in smaller barrels) for a more fresh, pure, and more approachable wine. And all while maintaining the breathtaking range of flavors that is the hallmark of Barolo wines: exotic spices, fine tobacco, polished leather, red cherries, and rose petals. All which you'll find in Molino's 2013 Gallinotto.
#8
"This is an enviable winery run by Stephen Hansel...."
Robert M. Parker, Jr.

2014 Walter Hansel Pinot Noir Cahill Lane
...
Here's a top notch AND an affordable California pinot noir, at least according to noted wine critic Antonio Galloni: "A commitment to delivering high quality and fair prices makes Walter Hansel one of the most consumer-friendly wineries in Sonoma." And it is no easy task to keep prices down. Hansel's wines are crafted with biodynamically cultivated fruit, which are fermented with indigenous yeast and see only a kiss of oak. Doing so is an expensive endeavor. Yet his wines, when compared to other top notch pinots, are consistently better priced. In sum? This pinot is one of California's best deals.
#9
"....Andrea Cortonesi... lands high on my list of favorite Brunello di Montalcino producers."
Monica Larner

2012 Voliero Brunello di Montalcino
...
A relatively recent project headed by Andrea Cortonesi, proprietor and winemaker for one of Italy's finest estates. Cortonesi has nothing else to prove. He is the former cellar master for Ciacci Piccolomini and the current proprietor of Uccelliera; both are top tier Italian estates. Yet he found the opportunity to craft a Brunello that showcases the higher altitude vineyards of the warmer southern side of the region irresistible. The results? A densely flavored red that somehow captures both the richness and the vibrancy that top notch sangiovese can express. This is a cellar treasure.
#10
"Dave Phinney... is one of the more creative young minds in all of the world's winedom."
Robert M. Parker, Jr.

2014 Orin Swift Papillon
...
With its consistently sunny skies and cool bay breezes, the Napa Valley enjoys envious advantages. There the vine consistently yields opulent wines that stand in the shadow of no one. Dave Phinney's 2014 Papillon is one of Napa's finest examples. A Bordeaux blend that showcases ripeness above all else, the 2014 Papillon is an icon in the making. Powerful and poised, this bold red drinks like a Napa cab twice the price. A crown jewel for your collection.
All the wines below are Binny's approved and on sale!
#1
"Simply superb."
Luis Gutiérrez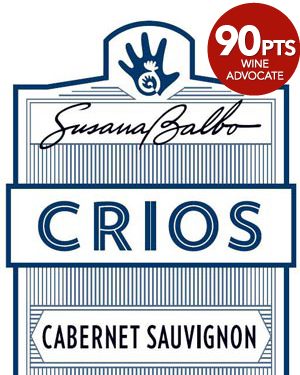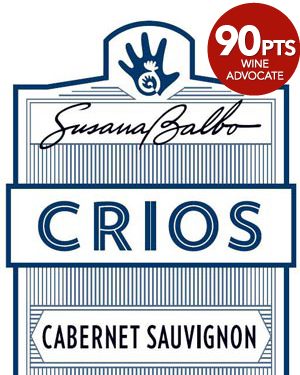 2015 Susana Balbo Crios Cabernet Sauvignon
...
Hands down one of the best value cabs in the world, crafted by Susana Balbo, a highly accomplished, award-winning, and Argentina's first woman winemaker. She sources her cab fruit from sun-drenched high altitude vineyards and gently crafts the wine with a cool fermentation. The results? A stunning value cab dense with fresh and vibrant flavors. Buy this one by the case - you and your guests will be reaching for a second bottle in no time.
#2
"....the prototype of fresh Torrontés ...."
Luis Gutiérrez

2016 Susana Balbo Crios Torrontes
...
Full-bodied, savory, and exotic - torrontes makes for delicious drinking all year round. Here's a textbook example crafted by Argentine wine legend Susana Balbo. Overflows with peaches, apricots, aromatic herbs, and rose petals on the full-figured palate. A delight on its own, and great with seafood or chicken.
2016 Inama Soave Classico
...
From northeastern Italy, a refreshing AND rich wine suitable for any occasion. Crafted just outside of Verona and comprised of garganega, this textbook Soave somehow strikes a delicate balance between citrus/floral freshness and nutty, honey richness. Achieving that balance is no easy feat! Green apples and white stone fruit with almonds in the persistent finish, Inama's 2016 Soave Classico can match anything from France or California.
#4
"Chenin Blanc… is probably the world's most versatile grape variety…."
2015 Anthonij Rupert Protea Chenin Blanc
...
A luxurious white with an uncommon blend of precise flavors and rich texture. Unlike either sauvignon blanc or even chardonnay, chenin blanc can do it all. From green apples and mineral hints in its dry/still or sparkling expressions to peaches and honey in its more rich and luxuriant instances - chenin blanc offers a wealth of flavors and textures unmatched in the wine world. Protea's 2015 chenin blanc strikes a balance between more dry and more rich, without compromising either. An all rounder that will delight ANY palate.
#5
"Casa Castillo is a treasure-trove for fabulous values...."
2013 Casa Castillo Las Gravas Jumilla
...
Spain's Jumilla is among the most sun-drenched, arid areas in all of Europe. Normally such conditions are ideal for crafting wine, but even the vine will find Jumilla oppressive. Yet here enterprising producers doubled down with monastrell vines, which yield wines as extreme as the land. Like the 2013 Las Gravas. This bold red is a sure bet!
#6
"This lush wine offers true value...."
2014 La Crema Pinot Noir Sonoma Coast
...
Pinot noir is perhaps the most challenging varietal to cultivate. It demands not only sunshine but also a cool climate for the flavors to gradually evolve and for the pinot's hallmark intensity/vibrancy to emerge. Burgundy, of course, is the benchmark. But California's Sonoma Coast has proven especially good. There, pinot noir berries enjoy a gentle evolution, their complex array of flavors slowly emerging with time - a complex array found in La Crema's 2014 Sonoma Coast Pinot Noir. It's a telling example, and a darn good deal given the quality inside the bottle.
#7
"....one of the region's foremost growers ...."
2015 Max Ferdinand Richter Graacher Himmelreich Riesling Spatlese
...
A haunting expression of riesling, from one of Germany's most northerly vineyards. To many the ethereal wines of the Mosel embody the German style, possible only because of both the sunny hillsides and the Mosel itself, which reflects sunlight onto the vineyards and without which riesling would fail to fully ripen. Because of its especially cool climate, a Mosel riesling displays a vibrancy and electric energy above all other German rieslings, as the 2015 Max Ferdinand Richter airly demonstrates. Perisistent and light on its feet, this lithe wine really dances on the palate. On point.
#8
"This could well be the best vintage of Luca Malbec...."
2015 Luca Malbec
...
As full-bodied as a cab and as persistent as pinot noir, well-crafted malbec the wine world's all-rounder. The best examples, like the 2015 Luca Malbec, showcase vibrant orchard fruit aromatic herbs, with a chocolate hint framing all. The intensity of flavors linger long on the palate and the mind, so make sure to buy a case of this stunning red. It will delight ALL palates, and we mean ALL!
#9
"....loads of fruit and richness."
2013 Mauro Molino Barolo Bricco Luciani
...
A full-bodied red from one of Italy's greatest wine regions, crafted by one of the Piedmont's new generation of forward thinking proprietors. In the sometimes tradition-bound Piedmont, brother/sister team Matteo and Martina Molino pursue more modern techniques - cooler fermentations and elevage in smaller barrels - for a more fresh and pure wine. And all while maintaining the breathtaking range of flavors that is the hallmark of nebbiolo wines: exotic spices, fine tobacco, polished leather, red cherries, and a bouquet of roses in the best examples, like Molino's 2013 Barolo.
#10
"Quintessa is a magnificent estate in Rutherford...."
2014 Quintessa
...
A top notch Napa cult cab. Owned by the venerable Chilean expat Augustin Huneeus, his approach is decidedly traditional. He built a gravity flow cellar and prefers both a basket press and wood fermentation vats (each one sized to accommodate a particular plot), both which ensure fresh flavors as well as a more silky texture. Yet without compromising the energy and power found in Napa fruit. This is a powerful, robust red that is also graceful and light on its feet. Undoubtedly world class.
Binny's Beverage Depot is staffed with the most knowledgeable and OPINIONATED enthusiasts in the industry, and we're thrilled to share our discoveries and with you. Many are rare hidden gems, so ask if you don't see it on the shelf!
2015 Castano Monastrell
...
From the original winemaking pioneers in Yecla, the Castano family monastrell vines (also known as mourvedre) are farmed with sustainable, organic practices. They range in age from 30 to 60 years old... incredible for a wine this price! Stainless steel tank fermentation and aging preserve the natural red fruit driven flavors. This medium bodied, dry wine is a perfect choice for grilled meats or Gruyere cheese. - Tom N., Wine Manager; Champaign
2015 Contini Pariglia Vermentino di Sardegna
...
Beautiful wine for grilled chicken, fish and shellfish. Creamy texture, crisp acidity and a hint of salinity make this an elegant wine for any occasion! - Stephanie K., Wine Consultant; Hyde Park
2015 Niepoort Twisted
...
An easy drinking red made from the classic Douro grapes used for Porto: touriga nacional, touriga franca, tinta roriz & others. Robust, rustic and dry. Just what the Doctor ordered!- Gregory F., Wine Consultant; Hyde Park
2014 Chateau Puech Haut Coteaux de Languedoc Le Prestige
...
The blend is 55% grenache from 60-70 year old vines and 45% syrah from 40 year-old vines. It spends 12 months in concrete and drinks smoothly for a wine that sees no oak. On the nose, you'll notice plum, cherry cola, mint, and the area's herbs de provence and minerality. Dark fruit, spices, lively acidity and a dynamic complexity define the palate. Drinks like a $30+ bottle, and a real steal at $16.99. - Tom P., Wine Consultant; Skokie
2015 Pali Huntington Pinot Noir
...
The goal at Pali is to make terroir-driven wines and to bring these wines to the consumer at the best prices without compromising quality. The 2015 Huntington shows a candied nose of sweet cherries, dark chocolate, cinnamon, ripe strawberries, boysenberries, toasted oak, and dried thyme. The palate offers up bright red fruits, cherries and raspberries up front, with earthy tones of wild mushrooms and black truffles. Long, elegant finish with black licorice, red fruit and hints of black tea. - Barry, Wine Consultant; Plainfield
2016 Chateau Margui Coteaux Varois en Provence Rose
...
This wine has been a great rose option for the last five years or more that I've known it. Structured and complex, it took a while to open up, but eventually it emerged beautifully. Elegant, with a quiet power, subtle garrigue, and dried wild fruits.- Dan S., Wine Manager; Orland Park
La Cle de la Femme Brut
...
Magic Door is, without a doubt, the best bang for your buck when talking champagne! Copious bubbles burst through the pale goldenrod juice, bringing forth delicate scents of herbs, white peach, and apple blossom. Layers of zippy citrus dance around the palate, with just a touch of honey & a hint of spice. Flavors of toast and almond round out the crisp apple notes, ending with a smooth and elegant finish. - Violet E., Wine Consultant; Lincoln Park
2015 J J Prum Wehlener Sonnenuhr Riesling Kabinett
...
J.J Prum is consistently an outstanding producer of traditionally produced German riesling, so I was unsurprised when this was my wine of the night from our recent riesling tasting. Sweet yellow fruits infused with minerality. Love the viscous texture and interplay of fruit and acidity. Showing very ripe for a Kabinett, yet not overly sweet. Delicious wine with food or on its own. - Dan S., Wine Manager; Orland Park
2014 Klinker Brick Old Ghost Zinfandel
...
Made from the same estate as Klinker Brick, this wonderful expression of old vine zinfandel exhibits beautiful dark fruit with a smooth finish. Time to start the grill!- Stephanie K., Wine Consultant; Hyde Park
Guiborat Fils Prisme 11 Blanc de Blancs
...
Fine bubbles with lovely floral, citrus notes that linger on an elegant dry finish. Next generation Champagne at a very reasonable price. This is the wine you talk about while you drink, not drink while you are talking. - Vincent Wong, Wine Consultant; Hyde Park