The Whiskey Hotline team is on a never ending mission. We scour the world for the most interesting, unique and best barrels of whiskey we can find. This can take us to Scotland, Taiwan, Washington, Tennessee, Kentucky... Wherever there's good whiskey to be found, we'll find the best of it and bring it to you at the best price we can.



A dog, a monkey, and an Antarctic explorer walk into a bar…
Copper Dog Blended Speyside Malt
...
Pronounced orchard fruits on the nose with spice and dark chocolate underneath. Approachable and pleasant without being over-simplified. On the taste, spice is heightened while cocoa dusted apple slices bake alongside pear and clove. Lovely finish with spice cake and orchard fruits lingering. A real treat fit for filling the dog and sneaking a dram.
Monkey Shoulder Blended Malt Scotch Whisky
...
As they say at Monkey Shoulder, "A threesome is better than a onesome". We couldn't agree more. Monkey Shoulder combines three of the world's greatest malts into one magnificent elixir. Glenfiddich, Balvenie, and Kininvie are matured in ex-bourbon casks and blended together. On the nose, spice and soft citrus dance with rich vanilla and malt. The taste reveals a bit more spice and vanilla with a small dose of red fruits on the side with mouth coating toffee. The finish lingers with vanilla and butterscotch fading to ever so soft clove and apple. The whole truly is greater than the sum of its formidable parts. A rich malty treat fit for a king.
Shackleton Blended Malt Scotch
...
Created by master blender Richard Patterson as an homage to the long-lost cases of whisky found buried in the ice below Sir Ernest Shackleton's abandoned 1916 Antarctic expedition. This is a modern interpretation of the old MacKinlay's Highland Blend, giving a rich and luscious backbone to the gentle smoke. Lucky for us, we don't need to go on an Antarctic adventure to find a dram. This new offering is blend of malts…no grain, and is loaded with flavor. On the nose, lovely undertones of malted barley, dark stewed fruits and orchard fruits, toffee, and soft smoke. On the taste, the malt dazzles with baked orchard fruits, marmalade, toffee and spice. The finish is lovely with the softest hint of peat and spice lingering. May your heart be full and glass never empty, as we raise a toast to the explorer that surely resides in Thee.
We have some excellent casks from Signatory on order from our trip to Scotland in May, which you can read about here. What we didn't buy was more shelving so we need to clear some space before they arrive. As always, these Signatory casks are bursting with flavor and value and of course bottled at cask strength. Don't let the age fool you, we specifically chose these 8 year whiskies as examples that the right casks in the right warehouse can produce beautiful and robust single malts at any age.
Signatory Caol Ila 8 year old ex Bourbon Barrel #311943 Binny's Handpicked
...
Decent plumes of smoke emanating from the glass here. However, soft fruit and vanilla flavors seem to be challenging the smoke for center stage. On the taste, smoke and fruit are in pretty even balance with vanilla and toffee in the background. The finish is quite long and sweet with a slow burn from the peat embers.
Signatory Fettercairn 27 year old Cask Strength Hogshead #2018 Binny's Handpicked
...
Dark stewed plums and figs on the nose with soft vanilla and butter. A rather complex bouquet of flavors. The flavor has a floral quality with roasted prunes and cinnamon spice. Long finish with vanilla and spice falling off slowly. With water, this malt really opens up with fruits moving forward and the floral elements intensifying. Lovely and complex with dense flavors.
Signatory Craigellachie 8 year old Cask Strength ex Bourbon Barrel #800123 Binny's Handpicked
...
Craigellachie is an important component of the Dewar's blend. The nose on this youngster is quite dense. Concentrated bourbon flavors with rich warm spices and a faint touch of smoke. Soft green apple skin in the background with some peppercorn as well. The mouthfeel is great, with those dense flavors coating and lingering. The finish is quite long with toffee and vanilla fading slowly. Beautiful malt proving age is just a number.
Signatory Clynelish 8 year old Cask Strength ex Bourbon Barrel #800076 Binny's Handpicked
...
This coastal Highland distillery is the backbone of the Johnnie Walker Gold Label blend. Soft vanilla bacon smoke with stewed citrus fruit, primarily pineapple. On the taste, a touch medicinal with soft anise and robust cooked citrus. Soft fruit and spice hang around for a while on the finish. A real stunner. With water, the fruits get a touch fuller and brighter in this malt.
Signatory Linkwood 8 year old Cask Strength ex Bourbon Barrel #800028 Binny's Handpicked
...
Another sizeable piece of the Johnnie Walker blends, Blue Label in particular, contributing sweetness and floral notes. This barrel is from the same run that we selected in 2015. On the nose, vanilla flavored cake icing, soft spice, toffee and oak. On the taste, this malt turns a touch darker in nature with floral notes and dark red fruits mingling alongside the softer notes found on the nose. Rich, warm honey and toffee with fruit. Long finish of spice and fruit with a beautiful floral quality. With water, the floral notes become even more dominant.
Signatory Edradour 10 year old Cask Strength ex Bourbon Barrel #110 Binny's Handpicked
...
Big bold vanilla, toffee, and barley on the nose with warm spice. Nice round mouthfeel with noticeable bourbon barrel aging highlighting butter, toffee, vanilla, and brown sugar notes. Soft fruit and anise show up late on the finish. With water, this baby really sings. Fruit and anise become more noticeable on the nose and the finish actually lengthens. Gorgeous whisky from one of our favorite distilleries.
These hot new releases just arrived, some in limited quantities. If you don't see it at your favorite Binny's, you know who to ask.
SAGAMORE SPIRIT
We're always excited to see new rye whiskey. These latest offerings just rolled in from Baltimore. While the house made spirit ages, they have secured some wonderful barrels of rye from Indiana to help pass the time.
Sagamore Spirit Straight Rye
Great balance of wintergreen and clove on the nose with spicy oak notes. The palate is equally balanced, highlighting the classic rye flavors of wintergreen mint, baking spice and a faint hint of dill. The finish is lovely with clove and sweet sugars lingering. A powerful young rye and a solid foundation for classic cocktails.
Sagamore Spirit Straight Rye Cask Strength
A double gold winner at the 2017 San Francisco spirits competition. Wonderful charred oak and cooked grain up front on the nose. Wintergreen, clove, and vanilla in the background. The taste is quite spicy with cinnamon, mint, dark baking spices, and vanilla. The finish is pleasantly long with anise and vanilla lingering. A stunner of a rye.
Hochstadter's Slow & Low 100 proof Rock & Rye Made With Straight Rye Whiskey
We at the Whiskey Hotline love a classic cocktail, and we love it even more when we don't have to make it ourselves. Enter Hochstadter's and their fabulous Rock and Rye. The rock and rye is the grandfather of the old fashioned; rye whiskey with some sweetener, citrus and bitters. In this case raw honey, dried orange peel, bitters and a bit of rock candy. You can get Slow & Low everyday at a very respectable 84 proof, but this 100 proof delight only comes around once a year and is made with 6 year old rye. Grab it while you can, at 100 proof the flavor lasts a lot longer than our stock will.

Knockmore Irish Whiskey
A welcome newcomer to the ever expanding selection of Irish whiskey, Knockmore is pleasant and approachable without being a bore. On the nose lemon, vanilla, and cooked grain lead with subtle clove and spice in the background. On the taste, candied citrus, vanilla, and oak spice. The finish is sweet and pleasant with candied citrus and clove lingering.
Spice Note Cumin Infused Tequila
On the nose, lovely flavors of cumin, spice, and agave. Taste is sweeter than expected and savory. Finish is full of cumin with a sweet side, and a tiny dose of peppery agave. A unique addition to our ever growing selection of flavors and elixirs.

Spice Note Cinnamon Infused Tequila
On the nose, loads of cinnamon…but in a cinnamon toast crunch sort of way. Sweet sugary cinnamon. On the taste, soft hints of agave show up, but pepper shows up big time with sweet cinnamon. Interestingly enough, on the finish this turns more into a red hots type of cinnamon. The take away, sweet cinnamon up front, cinnamon pepper agave on the taste, and redhots candy finish with some subtle agave pepper. Looking forward to using this in some cocktails.
GRAN DOVEJO
Gran Dovejo was founded in 2009 by two cousins who partnered up with NOM 1414, found a legendary distiller in Sergio Cruz, and began producing some impassioned and delicious tasting tequila. The pinas used for these tequilas come exclusively from the highlands of Jalisco. These plants tend to be fruitier and juicer than ones grown at lower elevations. This high sugar content translates into big, full, rich and tropical fruit laden tequilas. We hope you enjoy them as much as we do.
Tequila Gran Dovejo Blanco
On the nose, citrus rich agave with soft vegetal flavors in the background. On the taste, citrus and pepper with a dose of agave honey. The finish is pleasant with spice and citrus sugars lingering.
Tequila Gran Dovejo Reposado
Aged for a minimum of 6 months, these reposados tend to fall more in the 12 month age range from what we can taste. On the nose, sweet highland agave has delivered a big tropical fruit bomb. Plenty of orange and lime with dried fruits and vanilla and oak spice lingering on the taste. The finish is long and fruit heavy. A well put together reposado and a welcome break from the usual whiskey rotation.
Tequila Gran Dovejo Anejo
Aged between 18 and 36 months, this anejo is drinking quite mature. Cooked agave and citrus lead the way on the nose with oak and leather in the background. On the taste, clove-baked orange, vanilla candy, and vegetal cooked agave flavors. The finish is very long and spicy with cinnamon fading slowly alongside clove.


Old Forester Statesman Kentucky Straight Bourbon
...
The newest member of the Old Forester Distiller's Row series is blended from casks aged exclusively in the warmest locations in the warehouses. It's a worthy addition to this underappreciated and well-priced lineup.
On the nose, loads of spice and citrus alongside cooked corn and oak. On the taste, red cherry and citrus flavors spring forward with doses of pepper and cinnamon. At 95 proof the alcohol is sitting in a really sweet spot, not to hot and not to soft. The finish is lengthy with cinnamon and citrus lingering. Really lovely Bourbon and a wonderful date for the movies.
Buffalo Trace Bourbon Binny's Handpicked
...
One of the Whiskey Hotline staples is back. A meticulous marriage of 25 barrels, this hand selected small batch highlights dark chocolate and berries on the nose with a pleasant dose of clove. The palate is richly layered and round with cherry, toffee, tobacco, and mint. The finish lingers with a balance of sweet and spicy anise notes.
Old Pogue Master's Select Small Batch Bourbon
...
After several years of on-again off-again availability we've just received a nice amount of one of our favorite bourbons. Often out of stock and hard to find, this 9 year old Kentucky straight bourbon is a delight. On the nose, spicy grain notes with rye prominently placed alongside vanilla and toffee. The palate shows some soft dark fruits, wood spice, and a pleasant dose of rye. The finish lingers with clove, vanilla, and dark fruits. A wonderful sipper, and perfect with a cigar.
When Grand Mayan, makers of one of our favorite everyday Extra Anejos, offered us the chance to claim our own cask of this ultra-aged beauty we couldn't pass it up. It's not every day we get an opportunity to select a single cask of old tequila, after all tequila rarely gets older than 3 years or so, much less a luxurious tequila over 5 years old.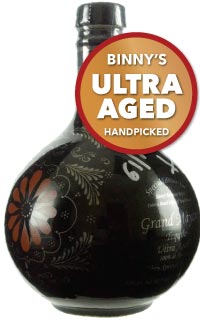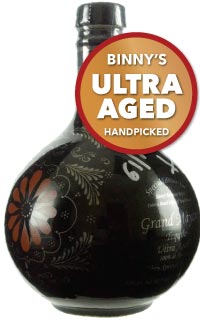 Grand Mayan Platinum Ultra Aged Binny's Special Edition Single Barrel
...
On the nose, dried citrus fruits, pepper, cooked agave, and vanilla bourbon oak spice. On the taste, gobs of juicy citrus fruits, candied orange segments and reduced citrus juice with a healthy dose of cooked agave. The mouthfeel is quite round and full. The finish is on the fruity side with a back end that centers more on pepper and agave with soft anise. One of the best extra aged Anejos we've tasted, and a real honor to have our name on this one. The label says 5 years old…in reality this is actually 7 years old.